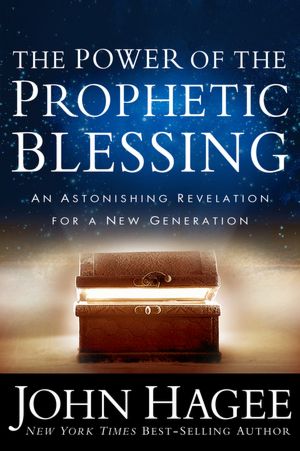 Book Review of The Power of the Prophetic Blessing
by John Hagee
"An astonishing revelation for a new generation. "

REVIEW BY: L. Bankhead
This new offering from New York Times Best-Selling author, John Hagee, comes under controversy and argument from the get-go. Check out any of the major book sellers and you will find mixed reviews. Hagee maintains that if we really understood, received and believed the blessings that are dispersed throughout Scripture that our lives would be radically changed and God's favor would be lavished upon us. I can understand why so many people would find disputation with this claim. But, I do believe they aren't looking at the heart of the book and of Hagee. He's encouraging you to speak blessing and agreement with God's Word over your loved ones, and those that you encounter. How can that be unacceptable? Hagee is taking God's Word at it's verifiable value; drawing from the inerrant Word and presenting promises of blessing that God has been fulfilling since time began. I personally do not believe the the Old Testament blessings closed with the Old Covenant. I believe God is the great I AM - the same yesterday, today and tomorrow.
My husband and I read this book together in the evenings; and both came to the conclusion that God's blessings are for today, are still relevant and are full of power. We do choose to speak over our daughter and each other with God's prophetic blessings over our lives. I do speak favorably of this book - but if you are a know-it-all, quarrelsome person, than this book probably isn't for you. If you are looking for more understanding and direction to affirm the ones you love, than pick up a copy. If you want to foster and cultivate the confidence that God has set apart for you - you should read this. Or if you want to WIN A FREE COPY - ENTER TO WIN HERE!
NEXT UP!

Reviews coming your way this Fall....
She's Got Issues DVD Curriculum by Nicole Unice (coming Sept 25)
The River

by Michael Neale