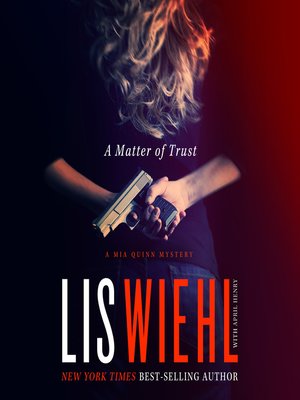 Book Review of A Matter of Trust
by Lis Wiehl

REVIEW BY: L. Bankhead
Here's a new offering by best loved author, Lis Wiehl, whom you've seen a lot of on here over the past few years. This new series she's started is called the Mia Quinn Mysteries, based around Mia Quinn, Seattle prosecutor. It's unknown at this time if there will be other novels in this series and how many. Mia Quinn is based after Lis Wiehl's own life - being a full-time legal professional and single mom; even taking place in Wiehl's hometown of Seattle.
As with most of Wiehl's books, in true fashion, this one opens with a bang. Literally. Mia Quinn overhears her best friend being shot over the phone. It's Mia Quinn's appointed job to solve the case, which turns out to be difficult. This premise is actually loosely based on the actual murder of a federal prosecutor, whose case is still unsolved to this day.
Mia Quinn is a character any Mom can relate to. She's trying to juggle it all and sometimes that doesn't work out as planned. In this case, she's recently widowed, back to work, with a pile of debt, a preschooler and a teenager. Then to top it off, she's asked to solve the case of her best friends murder. Talk about a lot of balls in the air. But, in my opinion, this book wasn't nearly as riveting or exciting as the previous ones. It's possible that this novel was to introduce us to Mia Quinn, and that there are possibly many more to come. The book starts of with fascination and charge, but slows down incredibly less than half way through. Still, I recommend it, since Wiehl still pleases with unforeseen twists and turns. I do hope that we see this character again and that she's on another captivating case. This book also touches on the growing problem of cyber-bullying, and a teenage suicide that is the result of it. I suggest this read for anyone that enjoys a good mystery - age 14 and up.
North of Ho

pe
by Shannon

Huffman Polson
Stress Test
by Richard

Mabry
Captive In Iran

by

Maryam Rostampour and Marziyeh Amirizadeh