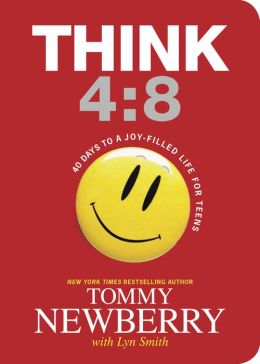 Book Review of Think 4:8
by Tommy Newberry
"40 Days To A Joy-Filled Life For Teens"

REVIEW BY: L. Bankhead
Yes! Yes! Yes! It is high time someone wrote this book! This has to be the most inspirational book for teens I have ever had the pleasure of reading. It is truly a catalyst for a better generation. I cannot wait to present this book to my youth girls small group. It's a 40 day guide to get over self-loathing, entitlement, and unhelpful thoughts. This book will catapult your mind into choosing joy in EVERY situation; and candidly living a joy-filled life. Each day takes about 10 minutes to read the down-to-earth article. Then, you are asked to "work it" with a quick interactive lesson every day. Next up, comes "talk it", which encourages teens to live it and apply it to their daily living. Third, is the best part - the sticky note! You made a sticky note each day that gives you a reminder on living joyfully. Some of my favorite one's are - "I am a sponge." "I am a rat-free zone." "I am a builder." Lastly, comes "pray it", which gives a short, yet treasure-filled prayer. Some topics covered are:
joy of perspective
joy of goals
joy of appreciation
joy of purity
joy of excellent work
The list goes on and on with 40 relevant and strong topics that this generation of teens really needs. I found myself incredibly blessed by this book; and look for ways to flex my new joy muscles. Grab this book for kids and teens 12 and up. This is also an excellent book for a evening quick devo with the family. If I recommend any book this year,
THIS IS THE NUMBER ONE PICK.
Absolutely do not miss out on this for your teens.
(I received this book free from
Tyndale Blog Network
as part of their blogging program. I was not required to write a positive review. The opinions I have expressed are my own. I am disclosing this in accordance with the Federal Trade Commissions 16 CFR, Part 255: "Guides Concerning the Use of Endorsements and Testimonials in Advertising."
)
NEXT UP!

Reviews coming your way this Fall....
Beauty By The Book, For Teens by Laurie Cole
Fatal Tide by Lis Wiehl
Frame 232 by Wil Mara