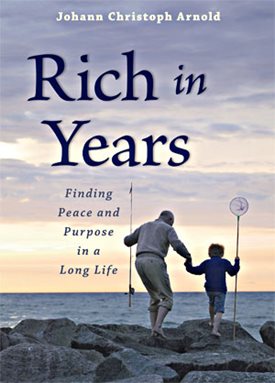 Book Review of Rich In Years
by Johann Christoph Arnold
"Finding Peace and Purpose In A Long Life"

REVIEW BY: C. Szymoniak
I'd like to introduce to you, my mother, Cynthia. She's joining me today to be a guest blogger and reviewer here. I asked her to read this book and let me know what she thought about it.

"This book is about entering your older years with peace and contentment. To find wisdom for the decisions you need to make as an older person. Also, it encourages the reader to have a teachable spirit as we grow older, so you can offer something to life and society. To be still, and know that God is God. This book is a compilation of short stories, with the contributors being a variety of older people. It gives their take on life and the process of growing older. Each short story takes about 10 minutes to read. Not only is there Scripture is in the mix, but also poems and anecdotes along the way, my favorite being...'Even if I don't need an proffered arm, I learned to say, I don't really need it, but I love to have your company. My philosophy is, 'keep going as much and as long as you can, but don't let it isolate you."
"I really enjoyed this book, and found that I would read different passages through more than once. I wanted to soak in the treasures within the pages so that I to could be a comfort to others and keep an open spirit and teachable heart as I approach my older years. I would recommend this book to a caregiver, men or women, and anyone that has a godly-character and would like to express it in their older age. I did find the book uplifting, but do think that it only pertains to the group of adults that are 50 years old and older. I want to close by relating to you that older people in your life are very valuable. They possess wisdom and knowledge for those younger. The aged person is not for discard, but a credit to society that should not be overlooked."


(I received this book free from
Handlebar Publishing
as part of their blogging program. I was not required to write a positive review. The opinions I have expressed are my own. I am disclosing this in accordance with the Federal Trade Commissions 16 CFR, Part 255: "Guides Concerning the Use of Endorsements and Testimonials in Advertising."
)
NEXT UP!

Reviews coming your way this Winter....
Blessed Child by Ted Dekker