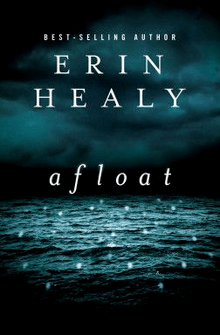 Book Review of Afloat
by Erin Healy

REVIEW BY: L. Bankhead
Page turning adventure coming your way! Best selling author, Erin Healy, does it again with her latest book, Afloat. Right from the beginning the waters begin to rise on the shores of Eagle's Talon, the floating homes and masterpiece of Vance Nolan. Once the flooding starts, everything falls apart, literally. From death, to a chemical catastrophe, volcano eruption, betrayal, angels and a little romance intermingled, this book offers a plethora to the adventure reader. I very much savored this little read. It really never took a lull; and truly surprised me with it's twists now and again. It's an effortless read, reminiscent of the work of Beth Webb Hart. You'll fall fast for Vance Nolan, find that you relate to Danielle Clement, and loathe Tony Dean. For moments you will wish you lived at Eagle's Talon and quickly want to flee. I recommend this book to teens and adults (at least 14 years old - due to the nature of Tony and Danielle's relationship). Procure a copy for yourself and be glad you did.
(I received this book free from
Booksneeze.com
as part of their blogging program. I was not required to write a positive review. The opinions I have expressed are my own. I am disclosing this in accordance with the Federal Trade Commision's 16 CFR, Part 255: "Guides Concerning the Use of Endorsements and Testimonials in Advertising."
)
NEXT UP!

Reviews coming your way this Summer....
Beauty By The Book, For Teens by Laurie Cole
Think 4:8 by Tommy Newberry
The Other Side of the River by Robert D Halpert, MD