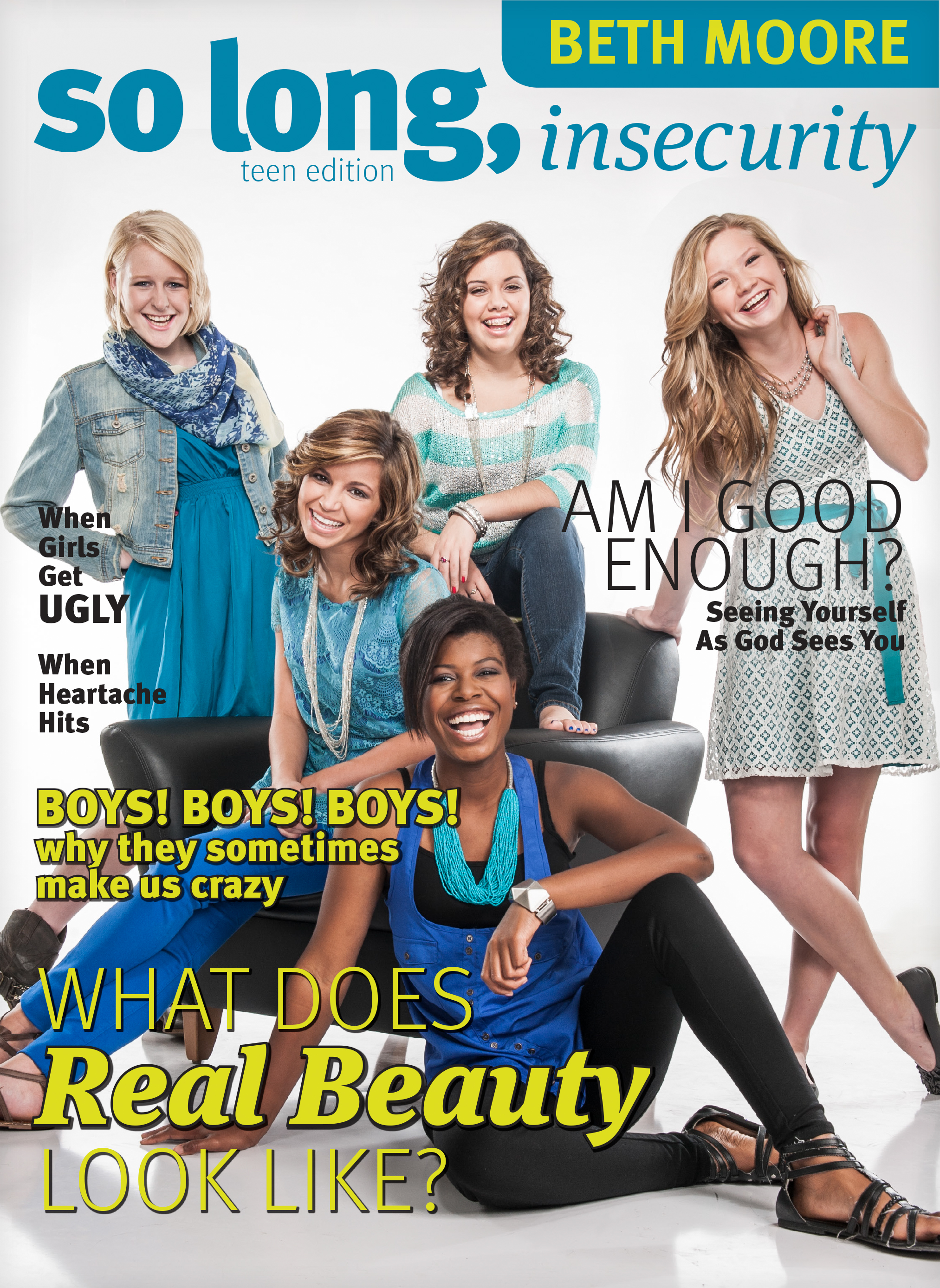 Book Review of So Long, Insecurity
teen edition
by Beth Moore

REVIEW BY: L. Bankhead
Acclaimed author, Beth Moore, steps out with something different with a teen edition of best selling book So Long, Insecurity. Moore has not only hit all realms of insecurity teens deal with, but has jam packed this edition for teen girls with so many goodies ....
- Everything is backed up with Scripture!
- The entire book is full color with photographs and bright excitement - just as teens like it.
- There are tons of interviews with real teen girls.
- Quizzes! Every girl loves a quiz.
- Each chapter has a woman from the Bible that dealt with the same insecurities.
- There are interviews with women that have gone through insecurity - even a Victoria Secret model.
- Each chapter has a "Chat About It" section for small groups.
- The book wraps up with a "Prayer of Security" and a call to salvation.

I'm ecstatic over this book, as was my 13 year old daughter. This is definitely a rare jewel in the cosmos of books for teens. I will be presenting this book to our Youth Pastor for consideration as a teen girl small group study.
I dealt with insecurity this week - which blindsided me, since I generally am a confident women. In a freak accident last week my left ring finger was severed. A wonderful ER doctor stitched me all back together and sent me home. Needless to say, my finger doesn't look like it once did it's in glory days. I'm dealing with embarrassment and sadness over the loss of a "beautiful finger". I found myself worried about what other people would think of my ugly, misshapen hand. Stuffing those feelings away and putting on a joyful smile only lasts so long. During my perusing of this book, I stumbled upon these scriptures - "...give your bodies to God because of all He has done for you. Let them be a living sacrifice - the kind He finds acceptable..." (Romans 12:1) "She is clothed with strength and dignity, and she laughs without fear of the future." (Proverbs 31:25) "Your Royal Husband delights in your beauty; honor Him, for He is your Lord." (Psalm 45:11) Such simplicity, yet so deeply meaningful in my moments of weakness and insecurity. No matter if you are a teen or a woman, God's Word doesn't change, and it's for all of us. I completely recommend this book for girls 13 and up. This would be a perfect Mom/Daughter study, a teen help book, or a small group study for teen girls.
(I received this book free from
Tyndale Blog Network
as part of their blogging program. I was not required to write a positive review. The opinions I have expressed are my own. I am disclosing this in accordance with the Federal Trade Commision's 16 CFR, Part 255: "Guides Concerning the Use of Endorsements and Testimonials in Advertising."
)
NEXT UP!

Reviews coming your way this Summer....
Afloat
by Erin Healy
Beauty By The Book, For Teens by Laurie Cole
Think 4:8 by Tommy Newberry